"Waiting In Line"
Drew Browning and Annette Barbier
Museum of Science and Industry
Thursday August 14 - Monday August 18
Daily during Museum hours in the Great Hall
<![if !supportLineBreakNewLine]>
<![endif]>
"Waiting In Line" is an interactive computer installation of visually rich, graphical representations of waveforms. The exhibit encourages those waiting in line in the Great Hall to participate in creating a series of Lissajous figures, a pattern of lines which may be familiar from science fiction movies of the 1950's. The images will be displayed on a large scale screen. As guests enter the Museum, they will receive two sheets of colored paper used to control the horizontal and vertical frequencies of complex, changing patterns.
<![if !supportEmptyParas]> <![endif]>
Drew Browning and Annette Barbier have been involved with public installations and performances since the1970's. They teach electronic art and installation at University of Illinois Chicago and Northwestern University, respectively, and are currently working on a commissioned performance and web work for Art Synergy that will be exhibited in both the US and in Vietnam in 2004.
<![if !supportEmptyParas]> <![endif]>
Sample screen shots from the installation; click on the image to see it enlarged:
<![if !supportEmptyParas]> <![endif]>
<![if !vml]>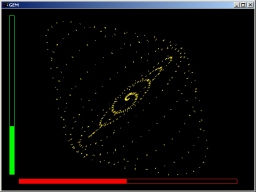 <![endif]> <![if !vml]>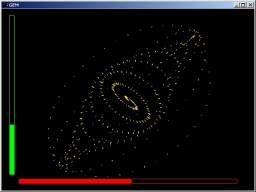 <![endif]> <![if !vml]>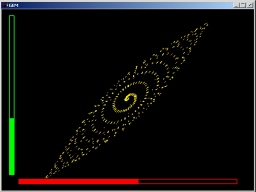 <![endif]> <![if !vml]>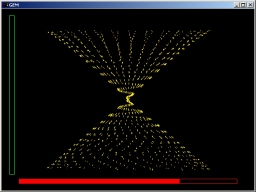 <![endif]> <![if !vml]>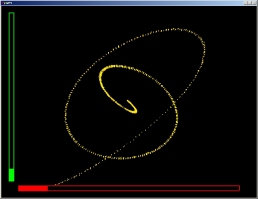 <![endif]> <![if !vml]>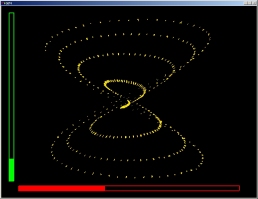 <![endif]> <![if !vml]>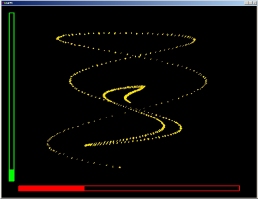 <![endif]> <![if !vml]>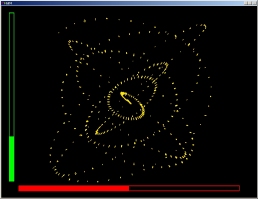 <![endif]>
<![if !supportEmptyParas]> <![endif]>
Movie clip (approx 2 meg) showing audience interaction (simulation):
<![if !supportEmptyParas]> <![endif]>
Another interactive work by Browning/Barbier is HOME, which is online at:
<![if !supportEmptyParas]> <![endif]>
Individual home pages of the artists:
Drew Browning http://www.evl.uic.edu/drew
Annette Barbier http://www.rtvf.northwestern.edu/people/barbier
<![if !supportEmptyParas]> <![endif]>