Marguerite Marie Alacoque took a vow of chastity at age seven, before she knew what the word meant. As a result of her self-inflicted fasts and penances, she endured extended illnesses, once remaining bedridden for four years.
After entering the convent, she proclaimed to her fellow nuns that God had chosen her to be a sacrificial victim, and that she would suffer for their sins. They disliked her intensely.
She received frequent visions from Christ. He told her that she was His chosen instrument to spread devotion to His Sacred Heart. In one of her ecstasies, she saw Christ tear out His Heart, which was on fire with love for her. He then split open her chest, took her heart out and pushed it through the wound in His own chest. As she watched it burning, Christ then gave it back to her, pressing it into place.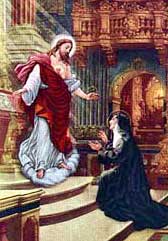 She recounted her visions to the convent's priest, who made them public. This transformed her into a celebrity. When she died, mourners cut of bits of her clothing as relics. Many miracles were attributed to her after her death.
One hundred and seventy-four years later her body was exhumed as part the beatification process. Her head was completely intact.
Saint Margaret Mary's bones are kept in a wax figurine on display at the Visitation Monastery in Paray-le-Monial, France. Her heart is kept in a reliquary inside the cloister, away from public view.