- CREDITS -
Concept by: Hisham Bizri and Maria Roussos
Art Direction: Hisham Bizri, Maria Roussos, Alan Cruz
Technical Direction: Maria Roussos
Senior Modelers: Hisham Bizri and Alan Cruz
Modeler: Joseph Alexander
Animator: Alan Cruz
Software design and implementation: Dave Pape
Programmers:Tomoko Imai, Alan Millman, Dave Pape, Maria Roussos
group photographs
- presentations & press -
Exhibitions:
Virtual Worlds '98 conference, paper presentation, Paris, France, July 1-3, 1998.

Virtuality and Interactivity, MediARTech '98 , Florence, Italy, March 23-29, 1998 (I-Desk).

Virtual Spaces, an ISEA '97 allied event Gallery 400, Chicago IL, September 15-27, 1997 (I-Desk & CAVE).

ThinkQuest '97, L'Enfant Plaza, Washington DC, November 20-24 1997 (I-Desks).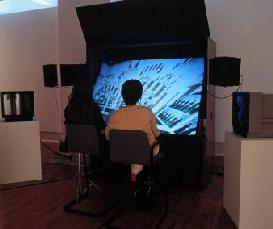 Video and press features:

SIGGRAPH '98
, Technical Slide Set.

Anim World'98
, China.

Electronic Fields, Illinois Art Gallery, March 31 - May 29 1998 (video)

Digital Video Magazine, March 1997

Leonardo journal (upcoming artist statements section).


- RESOURCES & BIBLIOGRAPHY -
A selection of resources used for the development of the project and cited throughout the text, including:
Albrecht Durer, 1471-1528. The complete woodcuts of Albrecht Durer, edited by Willi Kurth, Crown Publishers, 1946.
Cesare Ripa, fl. 1600. Baroque and Rococo pictorial image edition of Ripa's 'Iconologia.' , Dover Publications, 1971.
Paolo Santarcangeli, Il Libro Dei Labirinti, Vallecchi Editore Firenze, 1967.
Penelope Reed Doob, The Idea of the Labyrinth from Classical Antiquity through the Middle Ages, Cornell University Press, 1990.
Umberto Eco, Apocalypse Postponed, Indiana University Press & The British Film Institute, 1994.
Umberto Eco, The Name of the Rose Harcourt Brace & Company, 1994.
Jorge Luis Borges, Labyrinths, New Directions, 1962.
Edward L. Stevenson (ed.) The Geography of Claudius Ptolemy, Dover Publications, Inc., New York, 1991.
John Goss, The Mapmaker's Art, Rand McNally, 1993.
James Cowan, A Mapmaker's Dream - The Meditations of Fra Mauro, Cartographer to the Court of Venice , Shambala, Boston, 1996.
Ronald Lightbown, Boticelli , CrossRiver Press, Ltd.
Titian, Prestel, 1990.
Jacqueline & Maurice Guillad, Bosch - The Garden of Earthly Delights, 1989.
Joachim Poeschke, Donatello and his World , Harry N. Abrams, Inc., 1990.
Alberto C. Carpiceci, La Fabbrica Di San Pietro, Bonechi Editore, Libreria Editrice Vaticana, 1983.
Alberto Busignani & Raffaello Bencini, La Chiese di Firenze; Quartiere di Santo Spirito, all 7 volumes, Sansoni Editore Firenze, 1974.
Henri Stern, Les Mosaiques de la Grande Mosque de Cordoue, Walter de Gruyter & Co., Berlin 1976.
Fernando Chueca Goitia, La Mezquita de Cordoba, Albaicin/Sadea Editores.
Liatif Kerimov et al., Rugs & Carpets from the Caucasus, Allen Lane/Penguin Books, 1984.
Jerrilynn D. Dodds, Al-Andalus: The Art of Islamic Spain, The Metropolitan Museum of Art, New York, 1992.
Emanuel Winternitz, Die schonsten Musikinstrumente des Abendlandes, Keysersche Verlagsbuchhandlung, Munchen, 1966.
Alan Kendall, The World of Musical Instruments , The Hamlyn Publishing Group, 1972.
Ralph B. Swain, The Insect Guide, Doubleday & Company, New York, 1948.
Erwin Panofsky, Studies in Iconology: Humanistic Themes in the Art of the Renaissance, Harper & Row, New York, 1962.
Dante Alighieri, Inferno, British Broadcasting Publication,1966.
... many more
- SOUND -
Richard Wagner, excerpts from the complete opera Der Ring des Nibelungen ,
Vienna Philharmonic, Sir Georg Solti, The Decca Record Company, London 1965.
- useful WWW sites -
Borges: the Library of Babel
Prospero: the books
the Umberto Eco page
links on & about Medieval Studies
the Apocalypse
The Apocalypse of St. John the Apostle
Late Medieval maps (1300-1500AD)