Gratuitously Groucho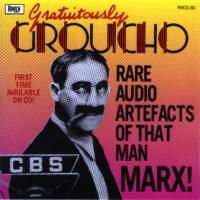 Contains recordings of various WWII era radio performances by Groucho (from Armed Forces Radio broadcasts, I believe).

Contents:
Greeting from Groucho, 1972 [1:00]
Groucho U.S.M.C. [5:42]
Hooray for Captain Spaulding [3:07]
Livingston Marx, African Explorer [18:30]
Dr. Hackenbush [3:06]
Hackenbush at Blue Ribbon General [7:00]
Go West Young Man [3:14]
We're Here for Beaubrick [3:27]
Game Show Groucho [5:12]
Lydia the Tattooed Lady [3:20]
Germs and Groucho [13:20]
G. Marx, Attorney at Law [6:52]
Life is So Peculiar [2:08]
CD. Running time 75 minutes.
This CD can be found at:
CDworld
Entertainment Connection
CD Now

---

Return to the Marx Brothers audio list
---
Last modified 3 February 1997. Dave Pape, pape@evl.uic.edu