The Marx Brothers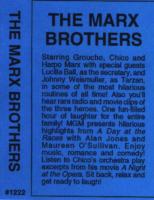 Contains recordings of various WWII era radio performances by Groucho, plus musical performances by Chico and his big band on the "Fitch Bandwagon".

Contents:
Chico & his band play "Pagliacci"
Groucho, U.S.M.C.
G.I. Journal / Livingston Marx, African Explorer
Chico & his band, with Mel Torme, play "Abraham"
Time Marxes On - MGM Presents Highlights of "A Day at the Races"
Mail Call featuring Groucho
Chico plays "The Beer Barrel Polka"
Cassette tape. Running time 60 minutes.
I have not seen this tape available on-line. It's from Radio Spirits, Inc.; their catalog of Old-Time Radio recordings can be obtained by calling 1-800-729-4587.

---

Return to the Marx Brothers audio list
---
Last modified 22 February 1997. Dave Pape, pape@evl.uic.edu