Moving the IDesk
Questions etc.
What's the deal with the IDesk3 dolly? Does the desk stay on it all the time?
Where does the audio rack go? While showing, and while moving.
Where do the speakers go? For IDesk3, they could be on the desk.
Where does the Onyx console go during the move? Balance it on the Onyx?
If we want to be bold, we could leave the monitor behind.
IDesk2 video + stereo sync can go on a single RGBS cable, with a couplee pigtails; or just two cables linked together
IDesk3 video requires 5 lines - RGB + H & V Sync. Could use one monitor cable for RGB, and an RGB cable for video syncs + stereo sync
Hub could probably stay attached to Onyx
Shut down and pack up
Power off IDesk & PC; unplug them
Disconnect PC from network hub
Disconnect Onyx video from IDesk
Disconnect Onyx audio from audio rack
? Pack up audio rack ?
Pack up IDesk
'chkconfig network off' and halt Onyx
Disconnect hub from network
Power off Onyx; unplug it
Set up
Plug in Onyx & power up
Unpack IDesk
Plug in IDesk & PC; power them up
? Unpack audio rack ?
Connect hub to network
Connect Onyx video to IDesk
Connect Onyx audio to audio rack
Connect PC to network hub
Turn on networking on Onyx
Run video testpattern
Start tracking & run cavevars
Need a set of scripts for each location. Need scripts for PC, for Onyx starttrackd, and for starting networking.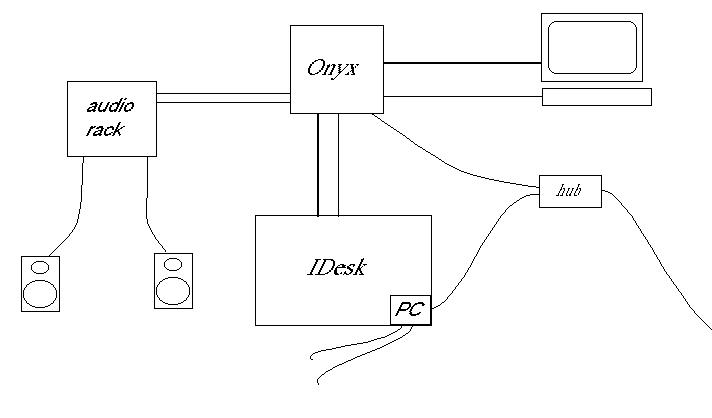 ---
Last modified 4 July 1998.

Dave Pape, pape@evl.uic.edu