IDEAS 2005 Festival
www.ideasfest.org
April, 23, 2005
the Wells-Metz Theatre, Indiana University, Bloomington, Indiana
---
Festival Description
The Indiana IDEAS (Interactive Digital Environments Arts and Storytelling) Festival is a competition and juried show of interactive entertainment, 3D, 2D, aural, virtual, animated and still creative work which will be held April 23 2005 at the Lee Norvelle Theatre and Drama Center and the Wells-Metz Theatre, Indiana University, Bloomington, Indiana. In this year, total 40 works were selected to exhibit in festival and 10 works were selected as the best work in its category.
3.D.UO.PAD was selected as the best work in Virtual Reality Environment
Festival Photos
1. Installation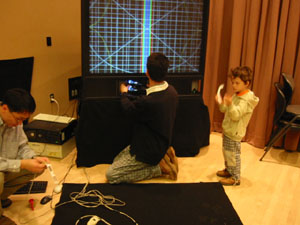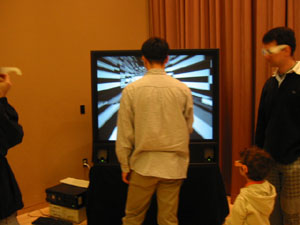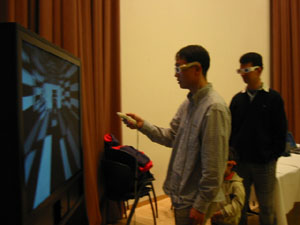 Basic installaion used two main component. The one is two computers running main graphics and trackign system. The other is John-e-Box that was develped by the Advanced Visualization Laboratory (AVL), Indiana University Bloomington. Abve images shows the snapshots of installation. In typical installation, I use Spacepad tracking antena above the screen but in the exhibition, John-e-Box has relatively small screen and makes us difficulty to hang the antena. The alternative way I used is to lay down antena on the floor and step on it. This requires re-configuration of tracking system. Finally it works fine in the event.
2. Exhibition Sketches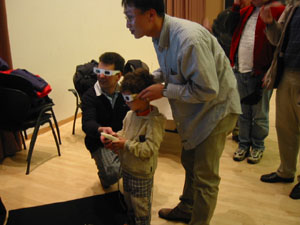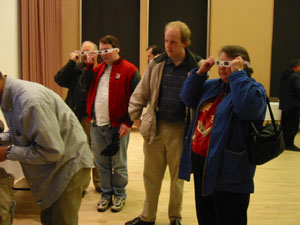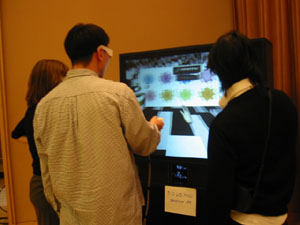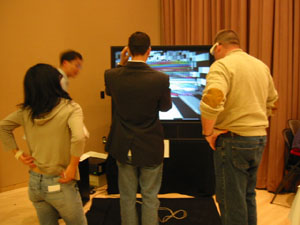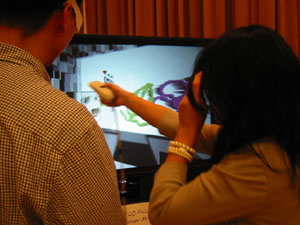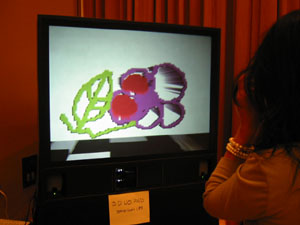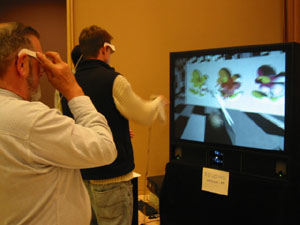 During the showtime, many of people enjoyed 3.D.UO.PAD, so far. First of all, audience was fascinated by stereoscopic vision and started to make their own work (drawings). One difficulty part of exhibition was the variety of audiences. Since virtual reality system tends to configure their installation based on the measure of adult. That means young kids have difficutly to see the screen and interact with 3D virtual object. The other was originally this application was developed using 10x8 feet screen system but Jphn-e-Box has pretty much smaller screen and this caused improper sense of scale.
3. People's Works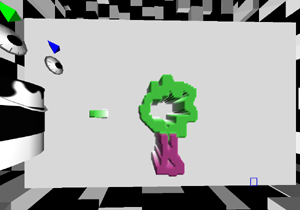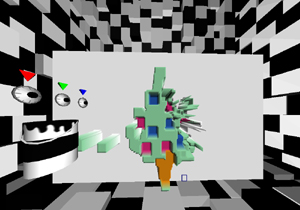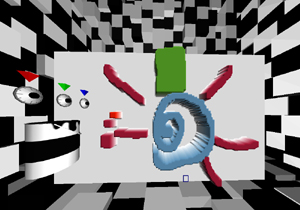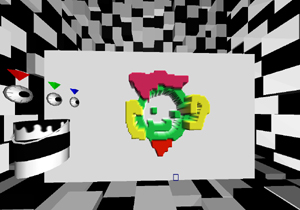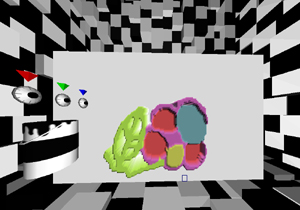 Here are several selection of audience's work at that day. Most people liked to use dual functional brush (paint and carve mode) to draw something onto canvas. At ths same time, they are not likely to utilize texture image on it. All the user's work were saved through the archiving room and I can reload them later.
4. Epilogue
Although this was one day event, I had learnt many other aspects of exhibition of virtual reality applicaton such as physical limitation of installation and complexity of the application that could make audience difficult to experience the piece without expert or navigator on site. The most valuable experience was that I really enjoyed it with people and could share my idea with others. This always makes me more creative and motivated.
Thank everyone who participated in 3.D.UO.PAD and Indiana University Bloomington who held this event.