VIS 2021
IEEE VIS is the premier forum for advances in theory, methods, and applications of visualization and visual analytics.
Chicago Satellite Event - Tuesday, October 26
Because of COVID, the IEEE VIS conference will follow a virtual format, but the organization committee has encouraged local satellite events, with a small auxiliary program that would complement the virtual program. Our event, a collaboration between University of Illinois at Chicago and Argonne National Laboratory, will fill the gap of in-person experiences and allow the local academic and professional VIS communities to network, come together, and exchange ideas.
Schedule
The satellite program will be held on the same day as the VIS Keynote (Tuesday, October 26) and will take place at the Electronic Visualization Laboratory (EVL). The event will be divided into two parts, a watch party of the official VIS 2021 program, followed by our local program, which will include a keynote talk by Dr. Alan Keahey. Full schedule below:
Program below:
7.30am – 3.30pm CST: VIS 2021 watch party at Continuum
3.30pm – 4.30pm CST: Invited Vis talk by Dr. Alan Keahey
4.30pm – 6.30pm CST: Student lightning talks (see full schedule)
7pm CST: Networking dinner at nearby restaurant
The student lightning talks will include local students giving an 10-min presentation about their research.
Invited Speaker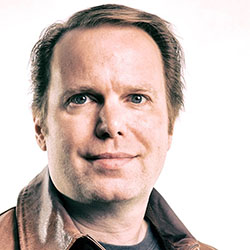 Visualizing the Digital Marketing Ecosystem
The digital marketing economy on a daily basis sees trillions of transactions within a complex network of brands and retailers (demand side) and hundreds of millions of web page placements (supply side) competing on real time auction marketplaces to make the right connections between the demand side and every individual using a web browser. Successful marketing requires sending the right message at the right time to the right customer, which drives the creation of rich consumer profiles with thousands of attributes covering demographics, contextual interests, and purchasing patterns from a wide range of data sources. This results in petabytes of high-dimensional and temporal information collected daily. In this talk I will describe the ecosystem, the data, and a tool created by my team at Epsilon (DiME) to view and understand it at levels of details ranging from the finest details to the broadest patterns.
Bio: Dr. Alan Keahey is Vice President for Data Science Visualization at Conversant Media, a major player in the B2B digital marketing space. His team is creating innovative visualization tools to help understand and explain complex digital economies spanning hundreds of millions of customers each defined by thousands of profile dimensions, across millions of content sites, generating trillions of daily interactions and petabytes of daily data. These innovations are driving the design of next generation enterprise wide Business Intelligence reporting at Conversant.
Alan has played a leading role in the research and development of innovative data visualization systems for over 20 years. His experience spans a wide range of environments including National Labs Research Scientist, Research Director at a Lucent Bell Labs Venture Company, Founder and President of a visualization R&D company, Visualization Consultant to Fortune 500 companies and Senior Data Visualization Scientist at IBM Watson. He has published seminal papers in the field of information visualization, patented a wide number of visualization techniques, and architected several significant visualization systems across different domains and technology bases. A regular speaker at both research and commercial conferences, he thrives on finding common ground between the innovations created in research environments and the real-world needs of business customers.
Lightning Talks
Colin Brown (NIU) - "Understanding dependencies in network visualization"
Carla Floricel (UIC) - "THALIS: Human-Machine Analysis of Longitudinal Symptoms in Cancer Therapy"
Ashwini Ganapati Naik (UIC) - "V-NeuroStack: 3D Time Stacks for Identifying Patterns in Neuronal Activity Time Series Data"
Bharat Kale (NIU) - "Interactive visual enumeration of hierarchies in multivariate graphs"
Farah Kamleh (UIC) - "Virtual Environments and Physiological Stress"
Connor Linus Murphy (NIU) - "Instrumenting Multiphysics Blood Flow Simulation Codes ​for In Situ Visualization and Analysis​"
Priyanka Nanayakkara (Northwestern University) - "Visualizing Privacy-Utility Tradeoffs in Differentially Private Data Releases"
Anton Rozhkov (UIC) - "Using System Dynamics approach to model urban decentralized energy systems"
Sanjana Srabanti (UIC) - "COVID-19 EnsembleVis: Visual Analysis of County-level Ensemble Forecast Models"
Juan Trelles Trabucco (UIC) - "Curation of biomedical papers"
Location
The Chicago satellite will take place at the Electronic Visualization Laboratory (EVL), University of Illinois at Chicago (UIC).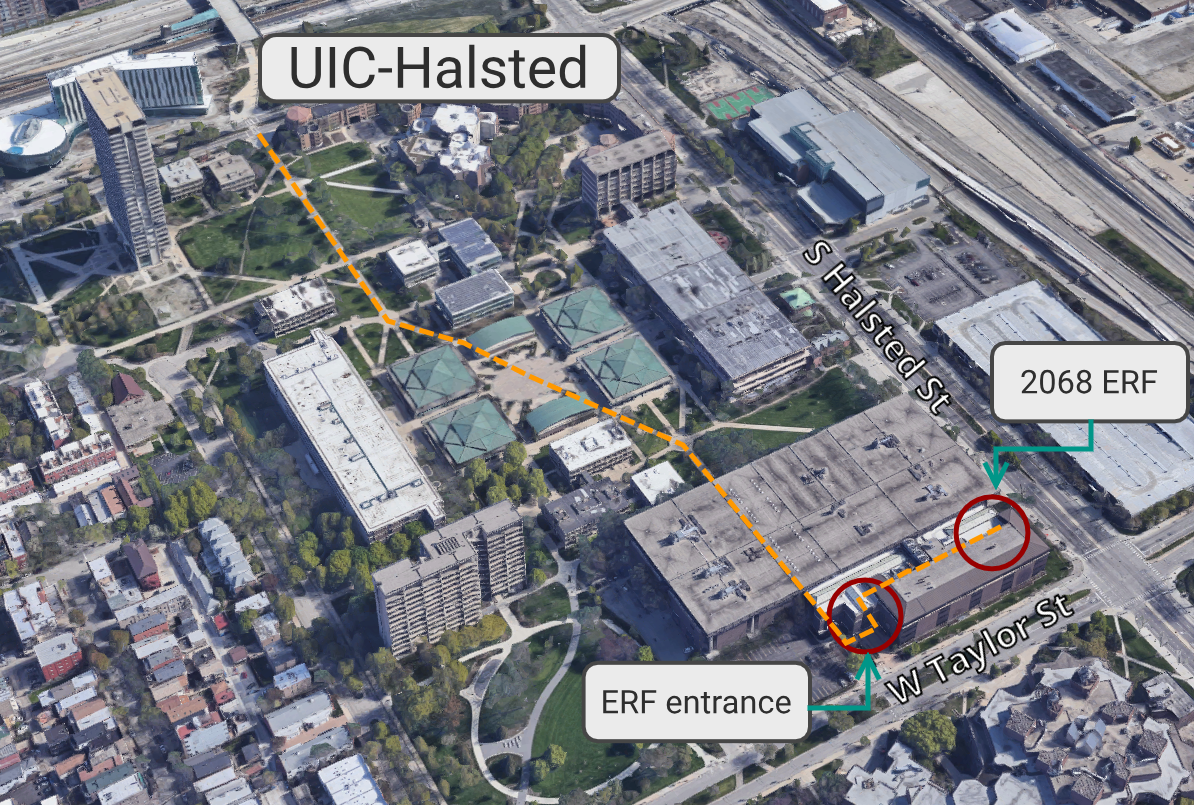 Once you get in the building, go down the hall to the elevators, go to the 2nd floor. Exiting the elevator, turn left through the double doors, and follow the signs to classroom 2068 (Continuum room).
Reaching EVL by CTA Blue Line train
Exit CTA Blue Line train at the Halsted / UIC stop.
Parking
Parking is available at 760 W Taylor St. You can find more information here.
Registration
Please complete this survey to sign up for the local event. Conference registration is free to students and will be handled by IEEE VIS (see here).
For our lightning talks, we are seeking presentations from students in the Chicago area. Each talk should be between 8 to 10 minutes and present a brief overview of their research. Lightning talk proposals can be submitted through our registration website.
UPDATE: website for registration is now closed; if you want to attend the event, please send an email to fabiom [at] uic.edu .
COVID-19 considerations
The satellite program will be hosted on UIC premises, so we will follow the up-to-date health practice guidelines of the University's campus COVID-19 policies . As of today, these include: wearing a face covering at all times, a wellness screening prior to coming on the campus, socially distancing, and limitations on group gatherings. We will closely follow the guidelines and update as needed.
Organization
Fabio Miranda
University of Illinois at Chicago
Victor A. Mateevitsi
Argonne National Laboratory