Temple
<!a href="./Sokgat.html">Sokgat'ap
Tabotp'ap
Songdok Bell
Sokkuram Grotto
Ch'omsongdae Observatory
I-Ching
Korea
Kyongju City
National Kyongju Museum
Sokkuram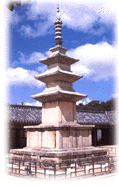 Built in the loth year (751) of Kyongdokwang, the 35th king of Shilla. This pagoda attests that Taboyorae praised the teaching of Shakyamuni. (Height 10.4m) Its base had some stairs in all directions with railings, but now only a stone column remains. Upper stairs are connected to Kapsog, on which five columns are built on each edge and center. Double supports are provided to keep up Kapsog. On the Kapsok, an octagonal pagoda body is laid. On the body lies an octagonal stone column like bamboo node to support lotus leaf support. On the lotus leaf support, octagonal lotus pedestal lies to support upper pan. The container box for the bones of Buddha is said to have been stolen by the Japanese during their colonial rule period. It is said that there were four stone lions on the 1st floor of the pagoda body, but now only one remains in its original place. Another lion is currently located in the British Museum in London, and the whereabouts of the other two is unknown.