Temple
Sokgat'ap
Tabotp'ap
Songdok Bell
Sokkuram Grotto
Ch'omsongdae Observatory
I-Ching
<!a href="./korea.html">Korea
Kyongju City
Fax Directory
Hangul FAQ
Korean Currency (Daily)
Korean Fonts
Korea Information
Korea Market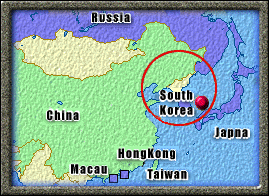 The Korean Peninsula extends southward from the northeast part of the Asian continent between the 33rd and 43rd North Latitude and 124th and 132nd East Longitude. The standard meridian of the peninsula is 135, 9 hours ahead of GMT. The Amnokkang and Tuman-gang Rivers border both China and Russia to the north, and Japan is just across the East Sea. Since 1945, as a by-product of the Cold War, the peninsula has been divided at 38 North Latitude into the capitalist Republic of Korea, or South Korea, and the communist Democratic People's Republic of Korea.

The total area of the peninsula is 221,607 km, similar in size to that of England, New Zealand, or Romania. South Korea possesses 99,237 km or 45% of the total land mass, and North Korea 122,370 km , the remaining 55%. About 70% of the land is mountainous, mainly to the north and east. Along the southern and western coasts the mountains descend gradually towards broad coastal plains. Most of the rivers have their tributaries on the north and east sides, and flow into the Yellow and South Seas. Concentrated for the most part off the southern coast are upwards of 3,000 islands of various sizes that provide scenery unparalleled in the world.