Next:
Further Work
Up:
First page
Previous:
Description of the Setting
Our current user testing is based on informal trials of the system. These trials revealed that our appropriate age group consists of children between 6 and 10 years old. The children of this age group were eager to explore the landscape, adapted rapidly, and were generally less inhibited in their exploration of the space than adults. Younger children are constrained by physical (size of stereoglasses,wand) and conceptual difficulties. Previous studies of children interacting with The Graphic Storywriter (an earlier 2D storytelling environment)[Steiner & Moher, 1992] has shown that children prefer to keep the narrative alive even though the system was constrained to produce structurally complete stories.
Much of this project's efficacy is hypothetical considering the limited resources of today's schools. The prohibiting cost of VR systems, such as the CAVE, make this work of little use in the normal classroom. However, this system aims to serve as a prototype for future integration of important educational elements into virtual reality systems, and can provide a testbed for hands-on learning and concept visualization. The experience does not claim to educate children by precisely simulating the real-world environment, nor does it hope to replace a real playground or classroom. Nevertheless, we believe that it contributes to the learning process, by allowing the child to do things that can't be done in the playground. It may, for example, demonstrate ecological interrelationships which cannot be visualized in an outdoor classroom. The children can plant trees in their actual schoolyard to attract birds and observe their behaviors. But on the virtual island they have the ability to scale and position every part of that ecosystem, or factor time to observe quickly and directly the effects of the changes they make to it. They can take on different roles, change their own size, or visualize abstract ideas that have so far eluded representation. Other extensions of the system may include its use in areas like Computer Based Training and Special Education, or to the introduction of ideas of social interaction and group dynamics to children that might not thrive socially.
Additionally, the fantasy elements invoke the child's active imagination, and provide the ability to have fun and to learn at the same time. We think that efforts in this direction may help to extend the pedagogical potential of virtual reality a step further, in the direction of promoting learning within the nexus of activity and engagement.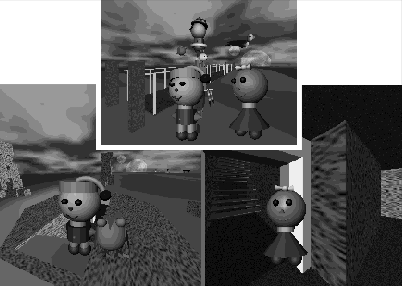 Figure 3: Some of GULLIVR's Avatars: at the bridge, at the cavern entrance, and inside the cavern.

---
Next:
Further Work
Up:
First page
Previous:
Description of the Setting
Maria Roussos
Wed May 29 17:35:53 CDT 1996