Detour: Brain Deconstruction Area Ahead
July 1st, 1994 - July 15th, 1994
Categories: VR Art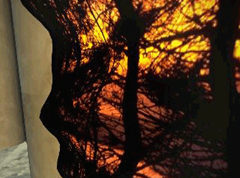 About
This autobiographical account by artist Rita Addison describes perceptual changes she experienced subsequent to her head injury in a car accident. DETOUR uses computer brain models and medical imaging to demonstrate anatomical trauma. In the final section, Addison's pre-accident photographic art is reconfigured to simulate the perceptual damage she sustained.

A virtual-reality experience can be a powerful way to evoke and stretch empathic capabilities. Whether it is used in collaborative medical evaluations or to educate medical professionals, students, patients, and families, virtual-reality technology is a unique and invaluable tool for communication.

This application was a part of VROOM - the Virtual Reality Room event showcased at SIGGRAPH 94.