---
Research/Publications

Gallery

Resume

Scrapbook

Furry/Feathered
---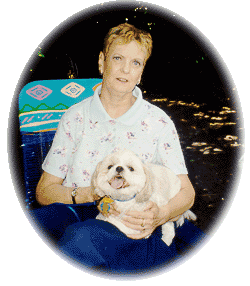 A Very Special Friendship... Karen & Barney



We first met Karen when she sent us the following message on Wednesday, April 4th, 2001...
My friend Barney was rescued from a shelter by his mom Janet. He was abused by his owners and was in a second shelter ready to be put to sleep the next day. I am his Aunt Karen Barney stays at my apartment when his mom and dad go away some weekends. He is so good and loving I wish he was mine. I have cancer and go for chemo a lot so I cannot take care of a dog full time. Having Barney stay with me is the greatest joy. He loves long walks and sleeping in my bed with me. We also play and I spoil him with treats.
From subsequent emails, we learned how Barney brought joy into Karen's life and helped her deal with the difficulties surrounding her illness. We were very saddened to learn that Karen passed away on September 30, 2001. We dedicate this page to Karen and our brief friendship with her and to her loving companionship with Barney, a sweet and beautiful friend.