Global Information Infrastructure (GII) Testbed
December 4th, 1995 - December 8th, 1995
Categories: Applications, Data Mining, Networking, Software, Supercomputing, Tele-Immersion, Visualization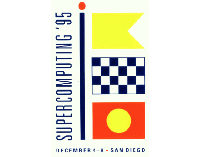 About
EVL took a leadership role at ACM / IEEE Supercomputing '95 in the organization of the conference's Information Architecture. This involved the integration of electronic audio / visual support with local and national networking, and the transmission and delivery of information to conference attendees. It prioritized the linking of datasets, computers and VR display devices over long distances, and trouble-shot the problems of dealing with varying bandwidths, protocols, and routing and switching technology.

The most extensive of the networks installed at the conference was the Information Wide Area Year (I-WAY), which was designed to provide the backbone for all high-end networking activities. The I-WAY was a working model for a proposed national-scale, applications-focused, community-based ATM network.

Thomas A. DeFanti and Maxine D. Brown were co-chairs of a special conference event, the Global Information Infrastructure (GII) Testbed, designed to provide applications to test the feasibility of the I-WAY. Contributors developed large-scale simulations on dozens of this country's fastest computers, linked by the I-WAY, and presented their virtual-reality and scientific-visualization output on a CAVE, I-Desk, or I-Wall.

EVL's goal was to encourage the development of teams, tools, hardware, system software, and human interface models on an accelerated schedule to enable national-scale, multi-site collaborations to facilitate solutions to National Challenge and Grand Challenge problems. The resulting applications demonstrated new paradigms for networking and scalable computing interoperability and optimization, as well as methods for graphical user interaction.