Virtual Harlem CAVE® Demonstration MOBE 2000
September 30th, 2000
Categories: Cultural Heritage, Tele-Immersion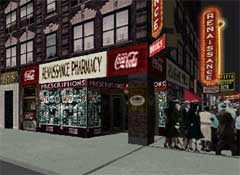 About
EVL, in collaboration with UIC's English Department and the Advanced Technology Center at the University of Missouri, hosted a reception and "Virtual Harlem" CAVE® demos for MOBE 2000 conference attendees (Marketing Opportunities in Black Entertainment).

Tele-Collaborative Virtual Harlem is a virtual reality application designed to supplement African American literature courses at the University of Missouri-Columbia and the University of Illinois at Chicago.

The application gives students a "portal" to the Harlem Renaissance that began in the 1920's. This virtual environment allows students to walk through the streets of Harlem, and hear a sampling of the music written and popularized during the period. The application also allows students from around the world to meet and interact in the same virtual space.

Future phases will allow students to enter buildings, peer through windows, eavesdrop on conversations and interact with historical characters.

Virtual Harlem was developed in part by University of Missouri's Bryan Carter; Carter is a MOBE "Influencers and Innovators" award recipient for 2000.