Interactive PHSColograms at the MCA
August 30th, 1997 - November 9th, 1997
Categories: Multimedia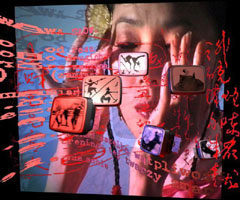 About
Designed by Miroslaw Rogala and created by (art)n Laboratory and Alan Cruz, a series of 'Interactive' PHSColograms are included in the work entitled "Divided We Speak". This work was displayed at the Chicago Museum of Conteporary Art Video Gallery, 2nd Floor through November 9, 1997.

For the first time ever, the works include an interactive audio component, which engages the audience in not only stunning auto-stereo imagery, but a cacophony of sounds that enhances each piece.

One of the PHSColograms in this series is included in the MCA's permanent collection.