MALO Drama
June 29th, 2001 - June 30th, 2001
Categories: Applications, MFA Thesis, VR Art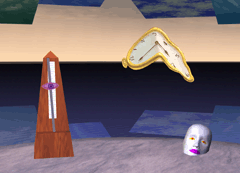 About
Friday, June 29, 2001
Opening and exhibit: 6-9 p.m.

Saturday, June 30, 2001
Exhibit: 11-2 p.m

MALO Drama is an interactive, immersive CAVE® art application that allows users to communicate with a virtual wizard, a Magic Living Object (MALO), and other networked participants. The virtual wizard accompanies the user through the multi-dimensional environment. MALO Drama is a public exhibition of MFA thesis work by Samroeng Thongrong, hosted by EVL / UIC.

Engineering Research Facility
842 West Taylor Street, Room 2032
Chicago, IL 60607
Map

Reservations are recommended. Please call Michelle at (312) 996-3002.