The Viewer Wins Honorable Mention
April 16th, 2009 - May 12th, 2009
Categories: MFA Thesis, Multimedia, VR Art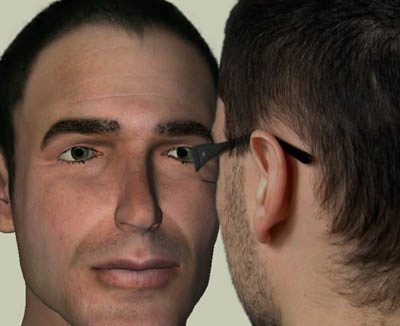 About
EV MFA candidate, Julio Obelleiro's The Viewer is among the winning entries in the University of Illinois at Chicago's The Image of Research 2009 competition.

The Image of Research is an annual interdisciplinary exhibit competition to showcase the breadth and diversity of research at UIC. Each year, students enrolled in a graduate or professional degree program at UIC are invited to submit an image with aesthetic appeal created by the student along with a brief précis of how the image relates to the student's overall research. A multi-disciplinary jury reviews the submissions and awards prizes to 1st, 2nd and 3rd place winners and three honorable mentions.

The Viewer is among the honorable mention winners. The winning image is a close up of an interactive installation called The Viewer, which consists of a virtual viewer situated in front of the real viewer, and deals with the visualization and comprehension strategies of the work of art. It presents an interactive device that establishes a relation of visual communication with the audience, showing how the viewer acts in relation to the art piece.