"Huacas" / VRML prototype / cd-rom / web
2000-2002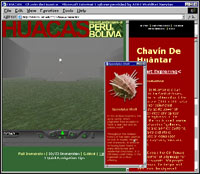 An interactive, highly portable, web-based educational product which explores sites of significant cultural importance in Peru and Bolivia which flourished in Pre-Columbian times. Currently the majority of these sites are in bad condition, or they are located in such remote areas that are not tourist-, or explorer-friendly.
In the current version, only Chavin de Huantar in Peru has been reconstructed with very rough data. The prototype utilizes VRML and a web-based interface and has been optimized for very slow computers and lower-end technology to accomodate low-budget classrooms. The user navigates the arhaeological site much like a video game and at the same time has access to site information and bibliography.