The Spacepad
September 1st, 1991 - November 30th, 0999
Categories: Devices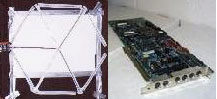 About
The Spacepad magnetic tracking system used with the ImmersaDesk is a plug-in PC ISA bus system and has the following components:

Antenna, which consists of three wire loops mounted on plywood and configured on a flat plane that is inclined at 35 degrees, and held in place above the I-Desk. During shipping the antenna piece is removed and flipped over the screen to protect it.
The transmitter and the receivers are integrated into the PC board.
2 receiving antennae - one attached to the glasses and one to the wand (if more receiving antennae are used, more receiver cards must be added to the PC).
The Spacepad PC card communicates with the SGI.