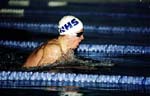 I first joined a swim team when I was 10 years old. I had always loved water, but competing brought an entirely new aspect to that enjoyment. I have kept active in a pool since that first summer. The picture above is from high school.
Past
I was a member of the Northern Durham (NC) swim team, but I never joined any year-round programs. I stuck strictly to the high school, where I finally started to come around during my junior year. The 100yd breaststroke was always my favorite event, but once I started to get a little stronger, I began to enjoy the 50yd freestyle sprint. I am pleased with how I performed in those four years, especially considering the fact that I did not participate in a year-round program.
In early March of 1994, circumstances prevented me from swimming in the state championship. A devastating blow, it turned me away from swimming for a short period. I looked into rowing, and when I chose to attend Furman University for my undergraduate degree, I joined the rowing team. Rowing held a lot of similarities with swimming, but there are many tremendously different aspects of the sport as well.
I had the wonderful opportunity coach a new team in Durham's Summer Swim League, the Hardscrabble Hippos. We had a small team of strong and dedicated kids. None of them had swam previously in a competitive setting. I coached them for those first two years, but had to turn attention toward finishing my undergraduate degree after that. Four years later, their initial effort paid off. The Hippos were the 1998 DSSL Division III Champions, and they repeated by winning again in the summer of 1999! Congratulations!
Following the excitement of the 1996 Olympics (and Furman alum Angel Martino), I returned to swimming. Although I had been swimming on my own, I needed to work with other people in order to really get something out of a workout. The Furman Swimming Club was formed and I split my time between rowing and swimming.
Toward the end of spring 1997, I wanted to become more involved with swimming only. I joined the Team Greenville Masters, a United States Masters Swimming Team. I had an excellent time swimming with the members of the team. Together with a few other swimmers, I went to the 1997 USMS Long Course Championships in Orlando, Florida. My senior year at Furman took a lot of my free time, and unfortunately I was unable to continue swimming with TGM toward the latter part of that year.
Present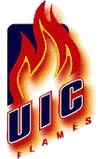 I just finished swimming with the UIC Men's Swimming and Diving team for the 1998-1999 seaeson. The NCAA rules stipulate that an athlete has four years of eligibility that he may use within five years of high school graduation. This first year of graduate school was my last chance to participate in NCAA intercollegiate athletics as a varsity swimmer. It is a good thing that I did my own workouts during my time at Furman, because without those, I would have been entirely unprepared to handle the season at UIC.
We had a very young team this year at UIC, and unfortunately our lack of depth was an obvious detriment in our conference championship. We could only enter swimmers in so many events per meet, and the larger teams could spread themselves much more effectively. Contributing to UIC for the Midwestern Collegiate Championships was an amazing experience. It was a lot of work to particpate on the team, but I would not have traded the change to join the team for anything.
Future
I hope to follow the progress of UIC Swimming throughout the years ahead. I plan to attend practices when I can make them, and I may join the Chicago Masters team to get back into US Masters Swimming. Swimming is something that is important to me, but not due to competition. I intend to use it as a means of exercise for many years to come.
Swimming Links