InterMediaLab
University of Oslo (UiO), Oslo, Norway
---
Science Create By You (SCY)
SCY is an Integrated project financed by the 7th framework program in the European Commission. It ran from 2008-2012 with 12 partners from 7 countries with a total funding of €6 million. In the learning environment students work individually or collaboratively on "SCY missions" in topics related to mathematics, science and technology. The missions are guided by general socio-economic questions (known as Advanced Pedagogical Scenarios, e.g. "How can we produce healthier milk?", "How can we design a climate-friendly house?" or "What are the basic properties of aquatic eco-systems?") requiring knowledge from different STEM subjects. While completing the mission, students are engaged in constructive and productive learning activities (experiment, game, share, explain, design, etc.).
Partner Institutions:
InterMedia, University of Oslo, Norway

Joseph Fourier University, Grenoble, France

University of Duisburg-Essen, Germany

University of Bergen, Norway

Frauhofer IAIS, Munich, Germany

University of Cyprus

University of Tartu, Estonia
De Praktijk, Amsterdam, The Netherlands

Stichting Technasium, Groningen, The Netherlands

ENOVATE, Bergen, Norway

Ontario Institute for Studies in Education, University of Toronto, Canada

Associated Publications
Snøkult
Snøkult is an InterMedia design of a multitouch application and pedagogical activities developed in collaboration with the National Museum and Snøhetta - an architecture firm based in Oslo - with the aim of fostering young people's deeper understanding of architectural design processes.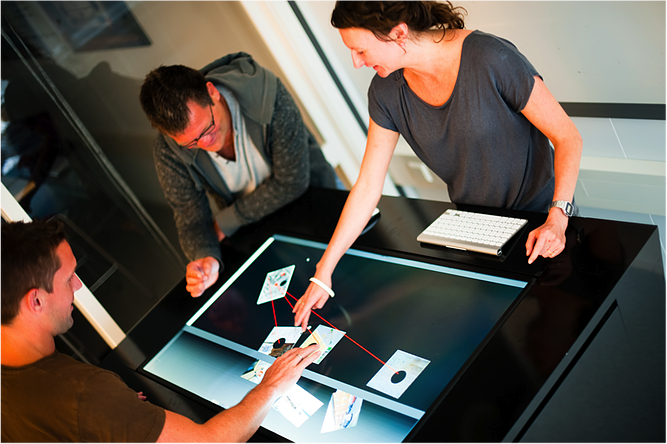 Citations
Associated Publications
MIRACLE: Mixed Reality Interactions across Contexts of Learning (MIRACLE)
MIRACLE delivers models of learning spaces where a mixed reality set up creates a learning experience that seamlessly ties together different settings: the school, the web, and the museum. The project provides knowledge and inspiration for designing an educational program that utilizes the Internet of the future. A mixed reality set up characterized by a rich amount of artifacts and digital representations in science are used to tie these settings more closely together. New interfaces are created to break down boundaries between virtual and real spaces for learning and communicating. (cite:MIRACLE Project Page)
Citations