The File Room
September 1st, 1993 - August 31st, 1996
Categories: Applications, Cultural Heritage, VR Art, Web Art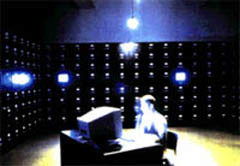 About
"The File Room" is an illustrated archive of cases of cultural censorship, conceived by artist Antonio Muntadas, and produced by Randolph Street Gallery (a non-profit artist run center in Chicago, IL, 1979-1998).

It was presented as a public interactive installation at the Chicago Cultural Center (May - Sept., 1994) and continues to exist as a WWW project housed at the University of Illinois at Chicago. Maria Roussos served as Production Coordinator for "The File Room" project and continues to maintain the WWW version. Roussos designed and implemented the archive in early 1994 and then customized it for the public art installation at the Cultural Center, which was visited by approximately 80,000 people in a period of 4 months.

"The File Room" has since been seen as a physical installation in Lyon (1995), Paris (1996), Barcelona (1996), and Hamburg (1996). Presentations on the project have been made at Ars Electronica '95 (Linz), ISEA '95 (Montreal), Medienbiennale '94 (Leipzig) and other venues. The internet version continues to receive approximately 8000 accesses per day.