Pervasive Displays 2017
June 7th, 2017 - June 9th, 2017
Categories: Applications, Software, User Groups, Tele-Collaboration, Remote Collaboration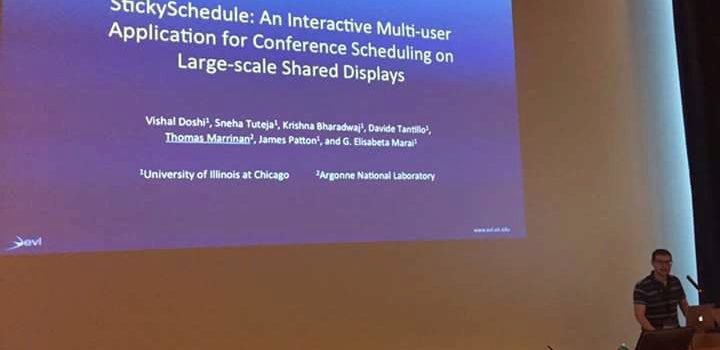 About
June 7-9, 2017 - Tommy Marrinan, EVL graduate and a postdoc at Argonne National Laboratory who has worked on SAGE2, attended the Pervasive Displays 2017 conference in Lugano, Switzerland and presented a paper on the SAGE2 StickySchedule application, for which he is a co-author.

Vishal Doshi, Sneha Tuteja, Krishna Bharadwaj, Davide Tantillo, Thomas Marrinan, James Patton, G. Elisabeta Marai, "StickySchedule: an interactive multi-user application for conference scheduling on large-scale shared displays," Proceedings of the 6th ACM International Symposium on Pervasive Displays (PerDis '17), Lugano, Switzerland, June 7-9, 2017

http://dx.doi.org/10.1145/3078810.3078817

Abstract:
Scheduling conferences is a common task in both research and industry, which requires relatively small groups to collaborate and negotiate in order to solve an often-large logistical problem with many nuances. For large conferences, the process can take days and it is traditionally a manual procedure performed using physical tools such as whiteboards and sticky notes. We present the design and implementation of StickySchedule, a multi-user application for use on interactive large-scale shared displays to better enable groups to organize large conference-scheduling data. To evaluate our tool, we present observations from novice users, and authentic use cases with expert feedback from organizers who are heavily involved in large conference scheduling. The main contributions of our work are documenting the collaborative and competitive aspects of conference scheduling, creating a tool that incorporates successful features and addresses identified issues with prior works, and verifying the usefulness of our tool by observing and discussing a variety of use cases, in both collocated and remote-distributed settings.