SIGGRAPH '97 Participation
August 3rd, 1997 - August 8th, 1997
Categories: Applications, Cultural Heritage, Education, Tele-Immersion, VR Art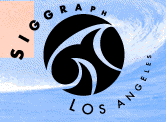 About
Electronic Visualization Laboratory (EVL) students and faculty presented a research paper on the NICE project as part of the SIGGRAPH Educator's Program. As a separate event, the NICE project video was shown in the SIGGRAPH '97 Computer Animation Festival's Screening Room, and was included in the SIGGRAPH Video Review. NICE is a networked learning environment for children.

EVL students presented two Art & Design Sketches in the Moving: Agency for Virtual Spaces section:
"Using Video to Create Avatars in Virtual Reality" - Joe Insley
"Metaphors" - MDolinsky

Jim Costigan presented a course entitled, "Computer Animation Using Digital Video".

The Multi-Mega Book in the CAVE, a joint project between EVL and F.A.B.R.I.CATORS showed in the Electric Garden venue on an ImmersaDesk system.