The N.I.C.E. Project Named As Finalist for GII Awards
February 1st, 1998
Categories: Applications, Education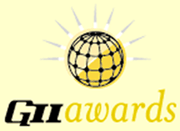 About
The N.I.C.E. Project is a finalist in the Global Information Infrastructure (GII) Awards.

"A cross between the Oscars and the Baldridge Awards of the Internet." - USA TODAY

The GII Awards recognize the champions across all industries and sectors of society who are using the Internet and network technology to produce amazing results. NICE is a finalist in the next generation category.

NICE is an interactive virtual learning environment for children.