EVL Participates in NCSA Technology Leaders Collaborative Demonstration for USAF
August 10th, 2004 - August 11th, 2004
Categories: Applications, Devices, Education, Networking, Visualization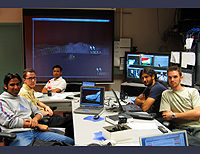 About
On 10 August 2004, the Electronic Visualization Laboratory participates in a NCSA Technology Leaders collaborative demonstration of emerging technologies to the US Air Force Air Mobility Command (AMC) Intelligence Directorate from Scott AF Base.

As a part of the demonstration EVL demonstrates TeraVision and a new version of ImmersaView on the GeoWall that features a shared pointer capability. TeraVision is a real-time nethod for distributing visual imagery from any graphics platform over a network to the user's computer. ImmersaView is a collaborative, shared 3D model viewer designed to operate on stereo devices such as the GeoWall.

The USAF is visiting NCSA to learn about innovative and effective ways to turn data and information into knowledge, and to learn of technologies that would better help them process mission information. This includes all aspects of the process including collecting, processing, interpreting, analyzing, and visualizing data and information.