Applied Interactives Exhibition :: Special Treatment
January 7th, 2005 - January 8th, 2005
Categories: Tele-Immersion, VR Art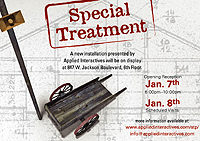 About
Special Treatment, a new installation presented by Applied Interactives in collaboration with (art)n, is an immersive and interactive installation examining the strength and persistence of memory. Travel to a desolate site based upon the concentration camp at Auschwitz / Birkenau where visitors from the past and present alter the landscape through the strength of their shared experiences.

Opening Reception
Jan. 7th from 6:00 - 10:00pm
847 W. Jackson Boulevard, 6th Floor

Scheduled Visits will be held Jan. 8th
For more information please contact: info@appliedinteractives.com

Applied Interactives is an artist-based non-profit organization that was founded in Chicago in 2001. Its primary mission is to propagate virtual reality technologies and art into the exhibition spaces of galleries and contemporary art museums as well as into the hands of individual artists. Its secondary mission is to continue to develop an art lab (a physical space) where artist members and visitors can work collaboratively on large scale or immersive artworks that make use of a range of interactive technologies.

To this end, Applied Interactives has developed a portable virtual reality system that the group has dubbed the VR Portal©. The VR Portal© is a modular virtual reality installation system which includes an immersive screen, head-tracked 3D computer graphics and real-time interactivity. In 2002, the VR Portal was used to display the artwork of several Chicago based VR artists at the Museum of Contemporary Art (versionfest<02) in Chicago, at the Block Museum in Evanston, IL, and at the Murphy Center in Indianapolis, Indiana. The large screen of the Portal gives museum visitors a feeling of total immersion into the virtual worlds created by the artists. Its tracking system matches the visual display to the user's perspective so that when they move their head, the virtual world shifts accordingly to the new perspective.

Applied Interactives has a goal of breaking down barriers of what people consider art to be. Recognizing the challenge of convincing art institutions to take the leap into supporting virtual reality art forms, Applied Interactives has actively pursued the development of new software and hardware systems that allow these institutions to exhibit VR and interactive art as readily they do any conventional art media.