MFA Thesis Exhibition: Replication of System
May 22nd, 2008 - May 23rd, 2008
Categories: MFA Thesis, Multimedia, Sound Art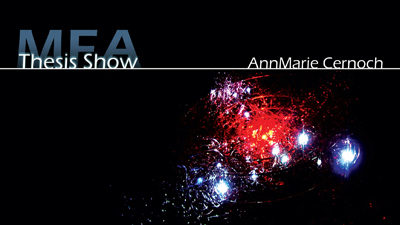 About
EVLer AnnMarie Cernoch exhibits her MFA thesis work Replication of System which explores the following artistic mediums: robotics, HD video and interactive electronic sculpture.

Opening Reception:
Thursday, May 22nd, 5:00 - 9:00 pm

Exhibition:
Friday, May 23rd

University of Illinois at Chicago
Art and Design Hall
400 North Peoria Street
5th floor, North Gallery

MFA THESIS PROJECTS ON DISPLAY INCLUDE:
Replication of System
AnnMarie Cernoch, Ratko Jagodic
2008

Replication of System is a computer-based interactive sculpture inspired by intercellular communication in the brain. Sound and vibration detected by cardioid and wall-mounted microphones in the sculpture's environment provide the stimuli for its movement and illumination.

BendyBots
AnnMarie Cernoch, Ratko Jagodic
2007-2008

BendyBots is a collection of twenty animatronic objects inspired by oceanic plant life. An electroluminescent wire illuminates each object, made of plastic and monofilament fishing line. A flexinol™-based pulley system makes the BendyBots sway gently in an invisible underwater current.

Infinity Gliders High-definition video documentation
AnnMarie Cernoch, Luc Renambot, Dmitry Svistula
2007

Infinity Gliders is a robotic installation. Small magnetic robots powered by micro Servomotors traverse an infinite landscape perpetuated by a two-way mirror and a glass mirror. The Infinity Gliders are hypothetical life forms that inhabit the void between the physical world and spatial infinity.