California Scientists Demonstrate How to Use Advanced Fiber-Optic Backbone for Research
October 9th, 2008
Categories: Applications, Networking, Software, Supercomputing, Tele-Immersion, User Groups, Visualization, VR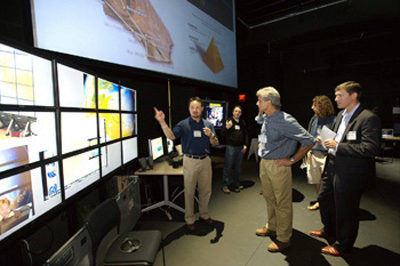 About
Read Calit2's complete press release at:
www.calit2.net/newsroom/article.php?id=1396

San Diego, Oct. 9, 2008 - How can super-fast networking among research institutions in California help scientists make new discoveries? Researchers, campus administrators and networking infrastructure officials converged on the University of California, San Diego in September to find out.

Taking advantage of the statewide, fiber-based California Research & Education Network (CalREN) and campus fiber-optic connections in and out of the California Institute for Telecommunications and Information Technology (Calit2) building on the UC San Diego campus, the Corporation for Education Network Initiatives in California (CENIC) held a two-day workshop showcasing end-to-end advanced scientific applications enabled by CalREN's high-performance "experimental-developmental" (CalREN-XD) and "high performance & research" (CalREN-HPR) infrastructure.

"We brought together the community in order to educate researchers in a variety of disciplines about new cyberinfrastructure technologies to enable new ways of doing science," said Jim Dolgonas, president of the Corporation for Education Network Initiatives in California (CENIC). "We expect to continue doing these types of workshops, because they give domain scientists very concrete examples of how their colleagues are benefiting from access to California's considerable investment in a world-class networking infrastructure."

CalREN is owned, designed, and operated by CENIC, which was formed in 1997 by the state's educational community in order to ensure that their institutions would benefit from the explosion in networking technology. The CalREN fiber-optic backbone stretches 2,700 miles throughout the state, supported by dark-fiber and lines leased from telecommunications carriers which penetrate into every county in California. CalREN connects all of the state's public K-20 research and education institutions as well as a significant number of private and independent institutions to one another and to the world - at astonishing speeds.