The Power of Image, Brain, and Hand in Rehabilitation
January 31st, 2009
Categories: Applications, User Groups, Visualization, VR, VR Art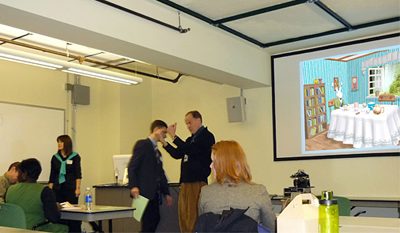 About
The development of the current phase of the ongoing research project Virtual Reality Environment Assisting Recovery from Stroke that employs the use of an actuated glove orthosis in an interactive, virtual reality environment to create a hand rehabilitation therapy protocol for stroke patients. Interactive stereoscopic demonstration of the prototype of this project was presented using head and arm tracking and a Head Mounted Display (HMD) at the IATA Illinois Art Therapy Association Conference, at the School of Art Institute of Chicago, Chicago, IL.

"Stroke is the third leading cause of death, killing 160,000 people each year, and the leading cause of adult disability" in the US (National Stroke Association, 2007, p. 1). As is the case with many forms of physical rehabilitation, the recovery of hand functioning following a stroke can be arduous. The repetition of rehabilitation exercises can be tedious and many patients discontinue treatment long before optimal results have been achieved. The goal of this project is to design a virtual reality environment that is both appealing and esthetically pleasing and because of these qualities, will keep the user engaged in the tasks of rehabilitation for a better therapeutic experience.

The virtual reality environment was inspired by the story of Alice in Wonderland. The host (March Hare) directs the user (his guest) to perform tasks requiring repetitive grasp-and-release and individuated finger movements in the course of interacting with the numerous animated objects in the scene. The virtual environment has been modeled and developed after discussions with therapists not directly involved in the design. We are currently working to integrate an assistive haptic interface, PneuGlove, with the virtual reality environment.