Ultra-high-speed, made ultra-easy
October 14th, 2009
Categories: Applications, Devices, Education, Government, Networking, Software, Supercomputing, Tele-Immersion, User Groups, Visualization, VR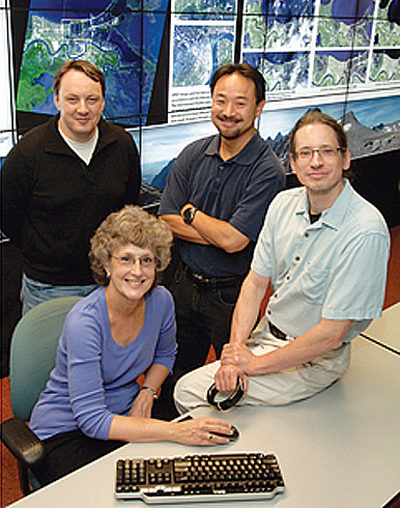 About
The University of Illinois at Chicago (UIC) Electronic Visualization Laboratory (EVL) was recently awarded a three-year, $1.9-Million grant from the National Science Foundation (NSF) for "OptIPlanet Cyber-Mashup," to create persistent visualization and collaboration services for global cyberinfrastructure. The award will enable EVL to further develop, enhance and deploy its popular Scalable Adaptive Graphics Environment (SAGE) middleware to a burgeoning international user community.

Read the complete article on UIC News

10/14/09
Paul Francuch, UIC Public Affairs

Scientists working collaboratively at the same time, but in different locations around the world, can now do so thanks to ultra-high-speed, broadband networks and special software developed as part of a National Science Foundation-funded program called the OptIPuter.

But to make it work, they often need technical support people standing by.

Computer scientists at UIC's Electronic Visualization Laboratory - a key partner in the OptIPuter project - think the process should be more user-friendly.

NSF has just awarded the UIC team a three-year, $1.9 million grant to make it happen.

EVL experts were instrumental in creating software that allows scientists gathered in remote locations to load huge amounts of digitalized data from supercomputers and visualize images, graphs or anything else on ultra-high-resolution, wall-sized display panels.

Scientists at any participating site can manipulate that data, simulate, compare and learn things from this shared experience.

Nearly 40 OptIPuter research centers around the globe, called OptIPortals, have been tested successfully.

"What we want to do now is turn this from a research project into a product people can easily use," said EVL member Andrew Johnson, associate professor of computer science.

"We're really trying to 'harden' the software."

Johnson is a co-principal investigator on the project, along with Jason Leigh, associate professor of computer science, and EVL staffers Maxine Brown and Luc Renambot.