MFA THESIS SHOW
EVENT DETAILS
The theme is pulled from a classic choreographic improvisation "comfort zone" where the dancer is invited to imagine themselves in "a safety zone, a circle of about two feet in diameter. It might be a place of fun, whereas the outside area is one of drudgery, or the place is a relaxation area whereas outside there is tension. But you are allowed to stay there only five to ten seconds and then you must leave. It is a place to recharge..." (Chaplin/Blom, The Intimate Act of Choreography)
The virtual environment
You will find yourselves in a seductive but uncomfortable space in which you stumble onto letters that cry out their phonetic sound; they pop like bubbles and fade back in. Imagine yourselves in a damp place, a dream where you are trying to speak but you can't make a word happen. By chance you may spell out a word but you will battle the space delicately, tempted by colorful and playful letterforms that carry with them a hint of another place. Your movement affects the aural environment. If you touch or get touched by one of the color letterforms you will be enclosed, carried and protected for a brief moment listening to familiar instruments. You may find yourself in and out of both spaces many times, by chance or by intention you will seek your comfort zone and you will find it in a different place everytime.
CAVE simulator snapshots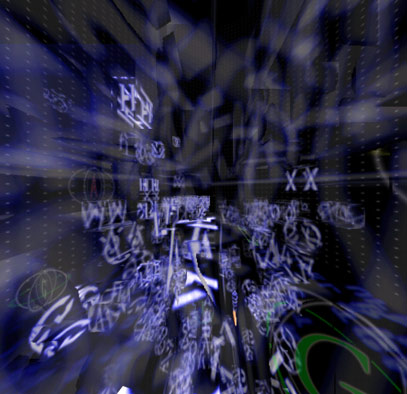 Floating phonemes simulating the bluish glow of white under UV light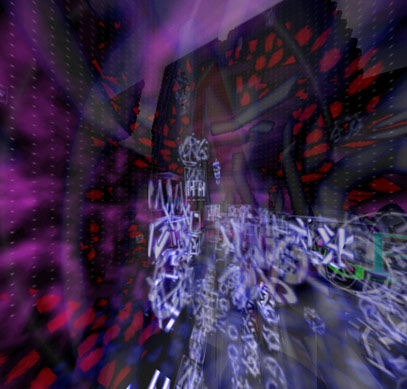 red and purple animation running together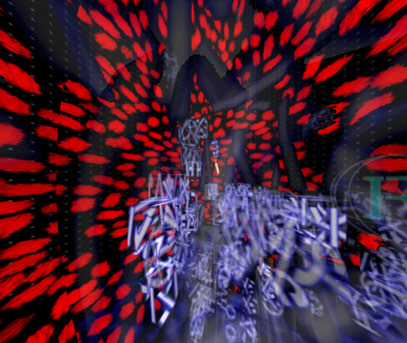 in the Red (A letterform) animation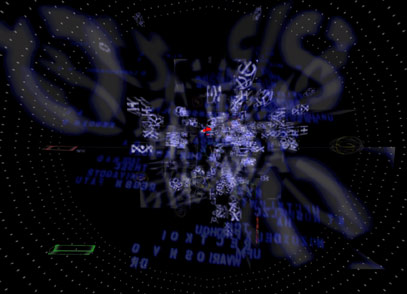 World view from the top

The physical stage
The staging area includes a custom designed floor that fluoresces under UV light and a passive-stereo (C-Wall) wall showing the virtual environment. The stage can accomodate one to two people at a time so scheduling will alternate between professional dancers performing and visitors. The stage will be videotaped at all times and broadcast to the waiting room area. There is no assigned seating to watch the performances. Visitors will be accomodated on a first-come basis. Dancers/performers will be wearing fluorescent costume additions to be visible to the tracking system.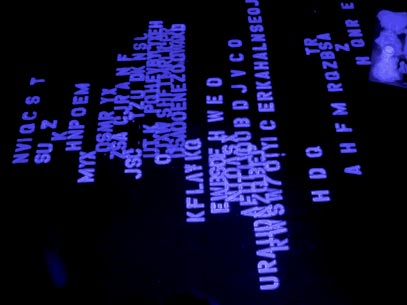 fragment of floor pattern
The waiting room
Visitors can enjoy the performance without being in front of the stage by viewing a projection (Geowall) of the virtual environment featuring an avatar of the performer. They can alse watch a live video feed being broadcast to the AccessGrid from the stage and can also see a small archive of previous performances on plasma screens.
> Front page
> Introduction/Concept
> Influences/Inspiration