STAR TAP℠ : Science, Technology, and Research Transit Access Point
May 1st, 1997 - April 30th, 2004
Categories: Networking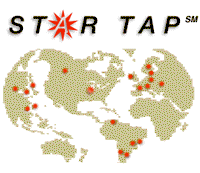 About
STAR TAP℠ - Science, Technology, And Research Transit Access Point - is a persistent infrastructure, funded by the National Science Foundation Advanced Networking Infrastructure and Research division, which is part of the Computer and Information Sciences and Engineering (CISE) directorate, to facilitate the long-term interconnection and interoperability of advanced international networking in support of applications, performance measuring, and technology evaluations.

The STAR TAP℠ anchors the international vBNS connections program. Physically, STAR TAP℠ connects with the Ameritech Network Access Point (NAP) in Chicago, as does the vBNS and other high-speed research networks.

It enables traffic to flow to international collaborators from over 100 U.S. leading-edge research universities and supercomputer centers that are now, or will be, attached to the vBNS or other high-performance U.S. research networks.