Riverwalk: Incorporating Historical Photographs in Public Outdoor Augmented Reality Experiences
January 1st, 2016 - Ongoing
Categories: Applications, Multimedia, Museums, Augmented Reality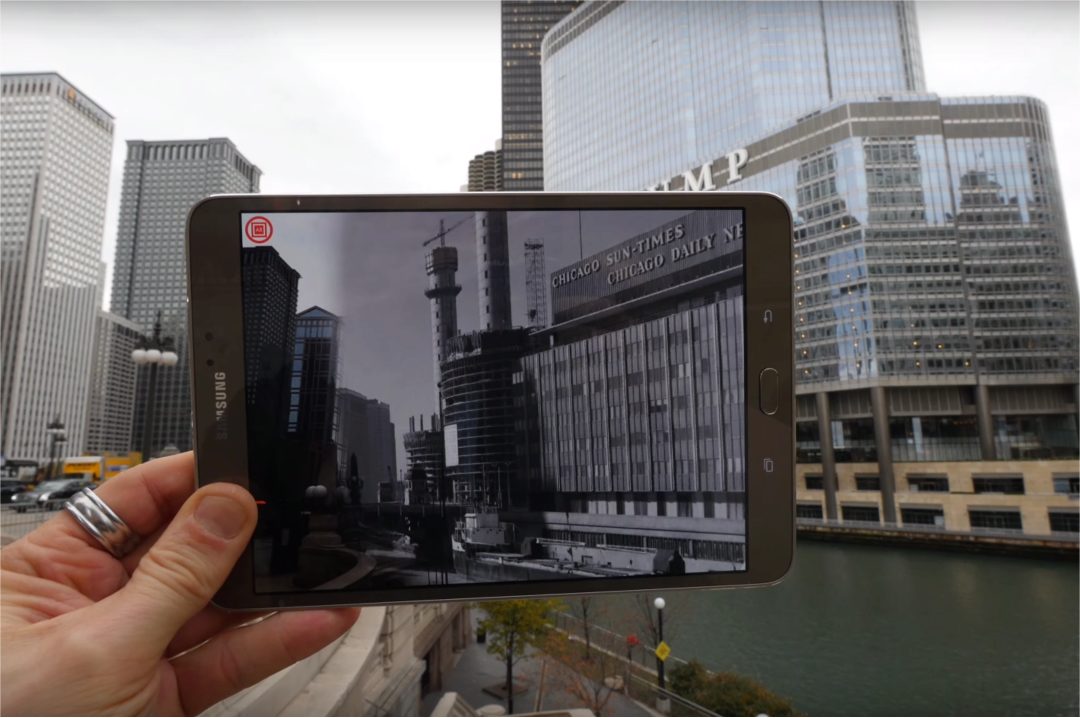 About
The Chicago 0,0 Riverwal AR experience provides a novel, interactive way for users to explore historical photographs sourced from museum archives. As users walk along the Chicago River, they are instructed to use their smartphone or tablet to view these photographs alongside the current views of the city. By matching location and view orientation the Riverwalk application creates an illusion of "then and now" co-extant. This superimposition of the historical photographer's view and the user view is the basis of educational engagement for the user and a key factor in curating the images and the narrative surrounding them, facilitating a meaningful museum experience in a public, outdoor context.

As such, creating the AR experience involves a complex back-and-forth between 3D and 2D experiences of locations: the historical images are 2D, taken from specific locations through specific optics and views; the user, present at the real-world 3D location is orienting their own camera and 2D phone video screen in space in order to achieve the AR experience and illusion; and the ultimate experience of superimposition is one of seeing two integrated views simultaneously: the stream of data taken from a smartphone' camera and the historic image. The site-specific nature of the publication makes it necessary to utilize a virtual 3D environment in which to place 2D augmented content that enhances the experience. This content needs to be placed in such a way so that the designer can accurately visualize what the user will see on screen from a particular location.

The first episode of the Riverwalk AR experience focuses on a single block between N. LaSalle and Clark Streets; the site of the Eastland Disaster in 1915. The site was selected because of the importance of this historical event - the sinking of the Eastland cruise ship 100 years ago was the largest single loss of life in Chicago's history - and because of the abundant media available in the archive including extensive photographic documentation, newspapers and film reels. Moreover, the site potentially offers natural way, finding characteristics that are amenable to developing our project, including a newly built pedestrian walkway along the river with viewing platforms, views from pedestrian walks along the bridges, and historical markers. Additionally, the urban environment offers many features providing sufficient quality for robustly tracking user location based on their cameras from a variety of views and positions. This is a typical scenario in the creation of public outdoor AR experiences; the quality of content and narrative are the primary motivations for their creation.