Last Drop!
August 1st, 2000 - May 18th, 2001
Categories: Animation, MFA Thesis, Multimedia, Video / Film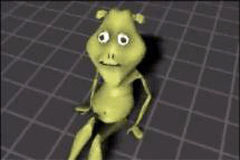 About
"Last Drop!" is an animated short by Natt Mintrasak that incorporates 3-dimensional computer graphics and live-action footage. The story is about a computer graphics (CG) character created by a 3D artist in a post-production studio. The CG character, Fulgore, comes to life within the computer environment in which he was created.

Though constantly manipulated by his creator, Fulgore takes every opportunity to surreptitiously explore and interact with his surroundings. When his creator finally leaves, Fulgore stumbles upon different computer graphic elements, which cause him to morph into different rendering shades and bump map. Fulgore also interacts with primitive objects and encounters features commonly found in the UNIX SGI working environment, such as terminal windows and a tool chest.

Fulgore's increasing frustration with what appears to be a vast, forlorn world causes him to yearn for an escape. His anxiety increases until he figures out the software interface, which springs him from the computer world into the real one. Fulgore, suddenly in his creator's studio, takes a seat in front of the workstation and assumes his creator's place at the computer.

The story was inspired by a prolonged creative block experienced by Mintrasak, and conveys his view that an artist overly consumed by his or her creative work runs the risk of producing obstacles that take on a life of their own.

"Last Drop!" premiered at Mintrasak's MFA Thesis exhibition at EVL, May 18, 2001. A display of 3D models, renderings, ImmersaGrams (stereographic stills), and animated clips of Mintrasak's computer graphics work accompanied the screening of "Last Drop!" at the event.