STORYSPACE: A Collaborative Tangible Design and Presentation System
September 1st, 2003 - April 1st, 2004
Categories: Applications, Architecture, Education, MS / PhD Thesis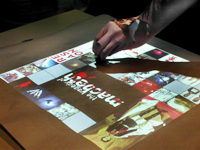 About
In this advanced technological age, digitally-driven collaborative activities suffer from inadequate multi-user platforms. Few existing computer technologies promote face-to-face interactions and provide simultaneous multiple inputs. Tangible tabletop systems can simulate the richness that traditional collaboration affords, while supporting the technological needs of digital collaboration.

This thesis describes the architecture and implementation of StorySpace, a new groupware application that supports parallel user input through a tangible user interface. Using radio frequency identification technology to automatically track tokens, or physical embodiments of virtual operations, StorySpace synchronizes activity in the real world with what users see in the digital world.

Usability studies were conducted in the context of digital media poster design exercises for an 11th grade English class. Preliminary results are promising, in that they reveal that StorySpace promoted interaction and discussion within a small group of students.