The Multi Mega Book in the CAVE™
September 1st, 1996 - December 1st, 1997
Categories: VR Art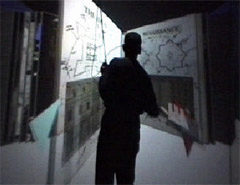 About
"The Multi-Mega Book in the CAVE™" juxtaposes the Print Revolution and the Information Revolution, and consists of two cities, an "ideal" Renaissance city, and a futuristic "CD" city. This project was initiated by Franz Fishnaller and Yesi Maharaj Singh of F.A.B.R.I.CATORS.

The content of "The Multi Mega Book in the CAVE™" is based in Maxi-Page 17: "The shift from the printed+book to the electronic text+digital skin".

The user can explore, experiment, interact in the first person and in a creative way with two revolutionary moments of human history and experience the shift between: the printed+communication (XVth century) and electronic communication (XXth century). This application joins two revolutions which have transformed the history of communication and in consequence human history.

The interactive visitor can freely explore the different dimensions of the two key centuries through the use of VR, stereoscopic, 3D Sound and Holophonic effects. As the user navigates through the immersive, interactive spaces, s/he has the sensation of being in two different dimensions: the renaissance world and the cyber space, integrated into one unique environment.

"The Multi Mega Book in the CAVE™" premiered at SIGGRAPH 97 and was completed at the artists in residence program at the Ars Electronica in Linz, Austria.