---
Research/Publications

Gallery

Resume

Scrapbook

Furry/Feathered
---
Carmella... the Early Days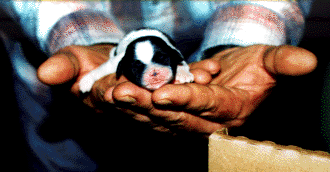 My story:
I was born on October 3rd, 1996, in Braceville, IL. The Watsons were very nice to me and when my Craig called about me, Pappa Watson promised that I would wait for him and Chris to make the long drive out to see me. They are so glad that the Watsons made the promise as they adopted me right away after seeing me (I'm pretty glad, too!)
---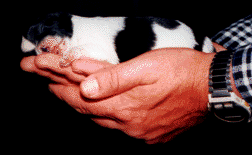 The Watsons recently sent Chris and Craig my early pictures. Ain't I cute. My Chris thinks it's the hands that are giant for how could I be so tiny?? I bet mom was glad I was...




---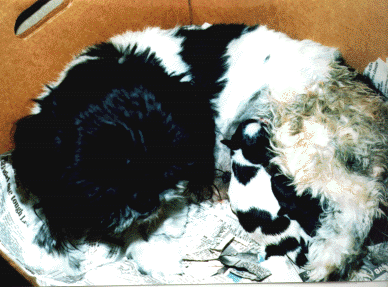 Here's mom giving me and my sisters some drink. It was so nice of her, but when my teeth got real sharp, the Watsons made mom wear a tshirt because our teeth hurt her. Later, Cassidy, my adoptive sis, refused to feed me the same way! I wonder why???




---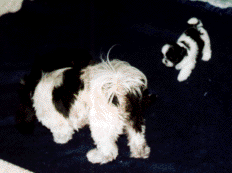 Here's me with mom again. I guess I was little compared to her. My fur resembles hers and she was very good with me. Apparently mom is a tomato eater. Chris and Craig have a garden - hmmmm, I bet it's for me!




---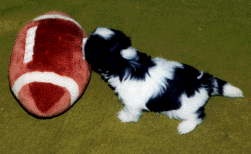 Here I am with a very large toy - my favorite kind! Now, I play with Craig's big shoes or ankle weights (what else could those things possibly be used for??) When I'm done playing, I make sure to put them in my bed.




---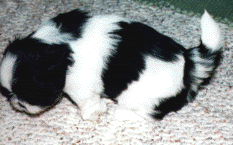 This is one of the first things my Chris says I did when they came to meet me. It is still one of my favorite things to do, although it is sort of fun to go outside too.




---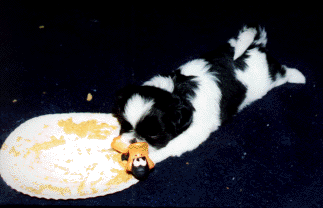 I like to lay on my tummy while I play. I even play like this in my new home where I can slide on the hardwood floors. Carpet can give you tummy burns so be careful when sliding!




---
Here is me and my two sisters all sleeping - another favorite activity of mine. Luckily Cassidy, my new sis, also likes to sleep (even more than me) and we often cuddle together just like this.




---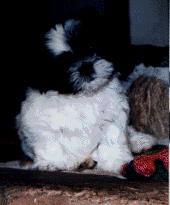 Well these are my early formative weeks. Later comes shots and more teeth and fur and something called *treats*!! Thank you for visiting! Come again!







---
Back to my home page
Cassie's page
---

Email me using Chris's email right here.