---
Research/Publications

Gallery

Resume

Scrapbook

Furry/Feathered
---
Carmella... the roudy Shih Tzu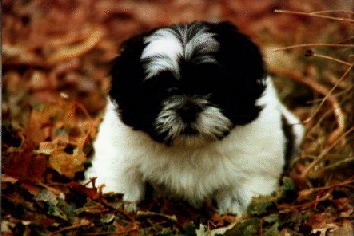 My story:
I joined the Chris, Craig and Cassie family in November of 1996. They say I'm a bit roudy, but I'm just staking my claims and having some fun. My sister, Cassidy likes to wrestle with me. Sometimes she holds me down under her weight and seems to be more serious than I am...
---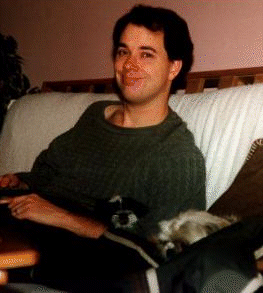 This is our Craig. He and Chris and Cassie like to cuddle with me and let me sleep with them. They say when I'm fully potty trained (whatever that is), I can even sleep in that big tall bed of theirs at night - I can't wait and neither can they...







---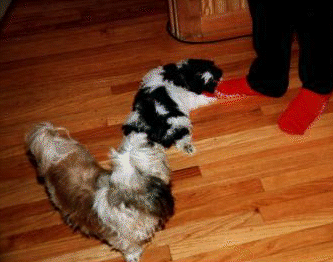 Our Chris lets me hold onto her socks (and dust mop and pants leg and ...) so that I can slide on the hardwood floors while she walks. It feels good on my tummy. She complains about my sharp baby teeth sometimes, but I don't know why... After all, I'm just a puppy...



---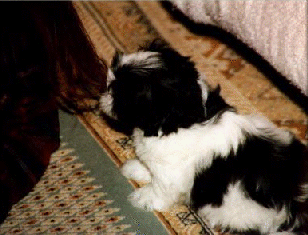 I also like to play with her long hair. Chris keeps it long so that I can reach up and pull on it anytime she is close to me. Why else would she grow it that way??



---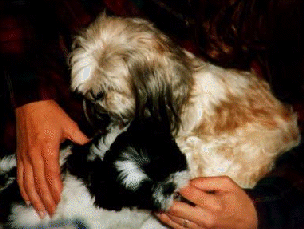 And speaking of chewing, I also like how Chris and Craig let me gnaw on their fingers - nice and salty, otherwise I just use those bones that Cassie shares with me. Cassie gets first pick, of course.



---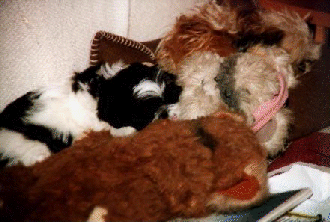 Yawn... Now for some much needed rest. Cassie works hard teaching me the ways of the Shih Tzu. Soon I hope to be as good (or "bad") as Cassie can be or even more so. In the meantime, Chris and Craig call me "Bruiser" and "Sluggo". I'm not sure why. I just want to be my own Shih Tzu.


---

Back to Cassie's Page
Some of Carmella's Shih Tzu friends on the net...
---

Email me using Chris's email right here.
---
<!-=-=-=-=-=-=-=-=-=-=-=-=-=-=-=-=-=-=-=-=-=-=-=-=-=->
paws have accessed my page since 9/23/97!
---
<!-=-=-=-=-=-=-=-=-=-=-=-=-=-=-=-=-=-=-=-=-=-=-=-=-=->