In the Loop: Maxine D. Brown
April 21st, 2015
Categories: Devices, Human Factors, Networking, User Groups, Visualization, VR, VR Art, Tele-Collaboration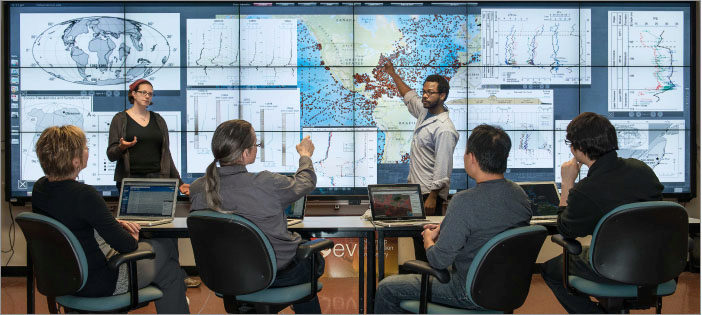 About
EVL Director, Maxine D. Brown presents EVL's latest research in collaborative tools and technologies at Chicago's Illinois Institute of Technology, Tuesday, April 21, 2015, 12:30pm – 2:00pm.

Insight Through Images: Visualization and Collaboration Technologies for Exploring Big Data

Today, most professions rely on computers to generate, capture, filter, analyze, and visualize data. These troves of data are invaluable to scientists as they explore the raw information and evidence needed for new insights and discovery; however, making those insights is an ever more complicated task, as the scale and complexity of data continue to grow at unprecedented rates. This big data problem requires an advanced cyber infrastructure that includes big displays connected to big computational resources via big networks. The Electronic Visualization Laboratory (EVL) at the University of Illinois at Chicago specializes in the design and development of high-performance visualization, virtual-reality and collaboration display systems, and applications utilizing advanced networking. This presentation describes EVL's CAVE2 Hybrid Reality Environment and SAGE2 Scalable Amplified Group Environment and gives examples of how they are enhancing immersive simulation exploration and information-rich analysis and enabling scientific discovery through interdisciplinary collaboration.