EVE5 - Virtual Reality Art Environments in the CAVE
March 1st, 2001 - March 3rd, 2001
Categories: VR Art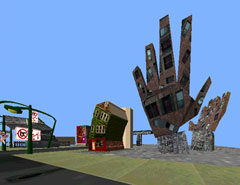 About
EVL and the School of Art and Design host an exhibition of Virtual Reality Experiences and ImmersaGrams for the College Art Association(CAA).

People can actively participate in immersive 3D worlds, to explore conceptual landscapes, animation and sound activated graphics. Take a peek into the advanced virtual environment used globally for art, design and scientific discovery. Computer-generated, autostereoscopic artwork will also be on exhibit.

Opening Reception: Thursday, March 1, 5:30 PM to 7:00 PM; exhibit through 9:00 PM.

Friday and Saturday: 10:00 AM to 9:00 PM.