PARIS™ Debuts at SC'02 with Haptic Medical Demo
November 16th, 2002 - November 22nd, 2002
Categories: Applications, Data Mining, Devices, Networking, Software, Supercomputing, Tele-Immersion, Virtual Medicine, Visualization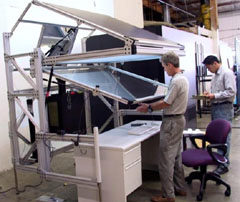 About
In a truly 'hands on' demonstration, a haptics-enhanced virtual reality device now on exhibit at SC'02 in Baltimore, shows how surgeons and medical modelers working together in a virtual space can produce precise fitting, pre-fabricated surgical implants without costly molding, casting or sculpting steps.

Using PARIS (Personal Augmented Reality Immersive System), a projection-based 'augmented' virtual reality display developed at the University of Illinois at Chicago (UIC) Electronic Visualization Laboratory (EVL), a surgeon and medical modeler can view a three-dimensional model of a patient's computed tomography (CT) data, and collaboratively review, sculpt and 'virtually' build an implant using their hands.

PARIS is optimized to allow users to interact with the environment using a variety of tactile input devices. An authentic sensation of the implant sculpting process is achieved using SensAble Technologies' PHANTOM force-feedback device. The PARIS display has excellent contrast and variable lighting that allows a user's hands to be seen immersed in the imagery.

A medically advanced, albeit labor-intensive and costly method for designing and building pre-surgical implants in virtual reality was developed and implemented at UIC in 1996. This process can correct traumatic head injuries and restore normal facial appearance. Although it revolutionized the still-widely practiced method of fashioning implants in the operating room using heat producing and potentially tissue damaging acrylics, it exists largely as a cost prohibitive option in most patient cases.

The digital, networked, collaborative modeling environment aims to eliminate many time-consuming steps and make the surgical procedure widely available. The digital model of the implant can be exported directly to a variety of rapid-prototyping manufacturing modalities, making 'hands on' sculpting, molding, and casting steps unnecessary, and allowing the use of new, state-of-the-art implant materials.

The current PARIS prototype employs the Christie Mirage 2000 DLP projector and a double mirror-fold to compactly and brightly illuminate an overhead black screen. Images projected on the black screen are reflected on a half-silvered mirror positioned over the user's desk. Putting his or her hands under the mirrored area, the user can see and interact with the virtual image, or the physical haptic device and/or keyboard. The configuration is well suited to the lighting conditions of a typical office environment, and the device can be easily packed, moved and deployed. The half-silvered mirror display can be raised and lowered over the desktop, so users can either work at their desk or in the virtual-reality space without leaving their offices. PARIS uses EVL-developed collaboration and networking software CAVERNsoft and Quanta, which enable real-time interactions over very-high-speed networks.

EVL has been working in cooperation with UIC's Virtual Reality in Medicine Laboratory and Department of Neurosurgery, to develop the collaborative augmented reality environment to provide a precise method to construct and revise pre-surgical cranial implant designs.

"We want to take a precise procedure and allow medical professionals to consult worldwide," said UIC medical modeler and application collaborator Ray Evenhouse. "The tools to model implants in a digital environment are in place. Given the right networking conditions, we could begin routinely produce implants using this method within two years."

The PARIS system is on exhibit in the Fakespace Systems booth at SC'02 in Baltimore. Fakespace commercializes the EVL-developed CAVE® and ImmersaDesk® systems. EVL receives major funding for PARIS development from National Science Foundation's Major Research Instrumentation and Research Infrastructure awards, and the Department of Energy Accelerated Strategic Computing Initiative (ASCI) Visual Interactive Environment for Weapons Simulation (VIEWS) program. PARIS is a registered trademark of University of Illinois Board of Trustees.