EVL helps the Adler Planetarium Celebrate the Anniversary of Spirit and Opportunity Landing on Mars
January 22nd, 2005 - February 10th, 2005
Categories: Animation, Applications, Tele-Immersion, VR Art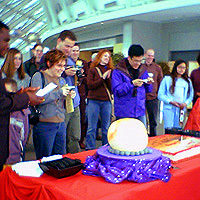 About
On January 22nd, EVL students and faculty helped the Adler Planetarium celebrate the one year anniversary of the Spirit and Opportunity rovers arriving on Mars showing Arcanius and the Mars Rover simulation in the Adler's Crown 3D Theater. These two applications were designed by graduate and undergraduate students at the University of Illinois at Chicago as part of a semester-long course in video game programming taught by Associate Professor of Computer Science Jason Leigh, and advised by Adler Planetarium staff.

Mars Explorer, designed by Chip Collier, Ken Dellmeyer, and Xinxia Wu, allows the player to roam the sand-and-rock-strewn Martian surface.

Arcanius, designed by Gideon Goldman and Julieta Aguilera, allows the player to explore the planets and moons of our solar system. Players can travel from planet to planet, as well as view it in its entirety, with the planets orbiting and leaving trails of spiraling helixes as it moves through space.