Spiral 5, PTL Exhibited at LA - MOCA
February 13th, 2005 - May 23rd, 2005
Categories: Animation, Video / Film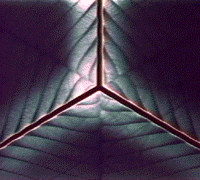 About
Dan Sandin's early pioneering video artwork is featured in The Museum of Contemporary Art, Los Angeles exhibition Visual Music.

This major exhibition explores the chronological relationship between art (abstraction, color, form) and music over the past century. Included are paintings, photographs, experimental film, video, and installation art.

EVL co-directors Sandin's and DeFanti's "Spiral 5, PTL" (1981), and EVL colleague Larry Cuba's "3/78 (Objects and Transformations" (1978) are featured in Films, Videos, Color Organs, Light Projections section of the exhibition.

Organized by the Hirshhorn Museum and Sculpture Garden, Smithsonian Institution, Washington, D.C., and The Museum of Contemporary Art, Los Angeles, the exhibition runs through May 23rd and will travel to the Hirshhorn in mid-June 2005.