Makebelieve Design & Consulting Designs New Museum Interactive Exhibits
September 15th, 2006
Categories: Animation, Cultural Heritage, Education, Multimedia, Video / Film, Visualization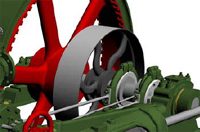 About
EVL alumna and fouder of makebelieve design & consulting, Maria Roussou's (MFA & MS 1997) proudly announces the opening of the new Museum of Industrial Olive Oil Production, which is housed in a traditional olive oil production plant on the island of Lesvos in Greece. The Museum will be inaugurated on September 15, 2006 by the President of the Hellenic Republic, Mr. Karolos Papoulias.

makebelieve design & consulting has designed and developed the digital exhibits for the new Museum, creating a series of digital productions which incorporate the 3D digital reconstruction of the fascinating industrial-era machinery. Most notably, the film "From water to water" includes the accurate 3D modeling of the steam engine, with animation that illustrates the process of energy production; the film "From olives to olive oil" includes accurate 3D reconstructions of the olive presses and their pumps, with animation illustrating the grinding, compression, and separation process for olive oil production. The productions are projected on multiple screens alongside the exhibits and on various informational panels throughout the exhibition spaces.

makebelieve has also designed and developed interactive exhibits for visitors of all ages, which are installed in the Museum's educational rooms. The educational game "Oil the 'wheels' of the communal engine" allows young visitors to construct the engines used for producing olive oil and learn about the process in an engaging and challenging way.