Science Chicago Visits EVL
February 21st, 2009
Categories: Academic, Applications, Devices, Education, Multimedia, Software, Supercomputing, Tele-Immersion, User Groups, Visualization, VR, VR Art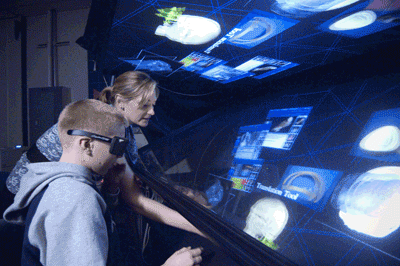 About
Science Chicago is a year-long initiative that brings together more than 80 of the area's leading academic, scientific, corporate and non-profit institutions to host thousands of programs that provide hands-on learning; spur thoughtful debate; and build enthusiasm for the pursuit of cutting-edge science. Spearheaded by the Museum of Science and Industry, support for Science Chicago is provided by The John D. and Catherine T. MacArthur Foundation, The Searle Funds at The Chicago Community Trust, Abbott, The Boeing Company, Illinois Tool Works Inc., and Motorola.

Science Saturdays offer rare, behind-the-scenes tours at internationally known research facilities and labs as well as up-close examinations of the natural wonders of our city, surrounding communities and universe.

The Electronic Visualization Laboratory hosted a Science Saturday on February 21, 2009. Visitors learned about EVL's history and research projects, and got hands-on demonstrations of EVL's visualization systems, software and applications. These included the TacTile multi-touch display system; the LambdaTable; the 55-LCD panel LambdaVision; the PARIS; the autostereoscopic Varrier system; and the CoreWall. The goal was to inspire visitors to learn more about visualization research and education, and how technology can impact our daily lives.