Gamer Edward Kahler brings his talent to Argonne
November 11th, 2010
Categories: Applications, Devices, Education, MS / PhD Thesis, Software, User Groups, Visualization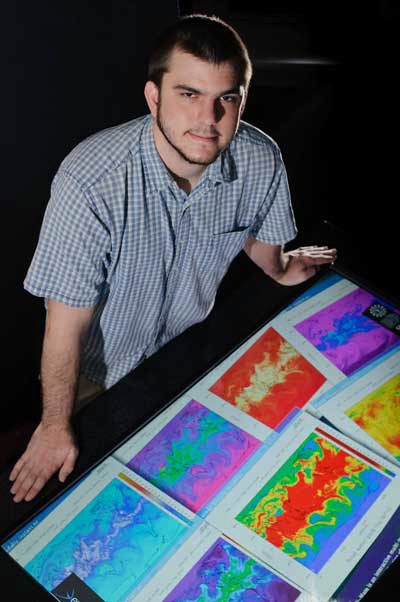 About
Here's an inspiring human interest story about a UIC Computer Science (CS) undergraduate student - now graduate student - whose obsession with video games is turning into a successful career path.

While taking the CS Video Game Design & Development course, Ed Kahler's talents came to the attention of his teacher, Jason Leigh, who subsequently hired him to work at the UIC Electronic Visualization Laboratory (EVL) with NSF REU (Research Experiences for Undergraduates) funds. Kahler's hardware talents made him one of the lead developers of TacTile, EVL's successful touch table. That success encouraged him to continue his education at UIC, and Kahler is now completing a CS master's degree. Meanwhile, TacTile came to the attention of collaborators at Argonne National Laboratory, whose UIC / EVL funding supported Kahler to first build them a TacTile table, and now supports him to develop scientific applications. This week, Kahler is attending the international Supercomputing 2010 conference in New Orleans and demonstrating his Cli-Mate application in Argonne's research booth.

This story was written by Marcella McCarthy, a graduate student at Northwestern University's Medill School of Journalism, who spent the week of October 25 at EVL doing a practicum for her science writing class. Several weeks ago she wrote another article that profiled the students behind EVL's "20-foot canvas" paint program, developed for its Cyber-Commons' large tiled display wall with its touch-screen interface.

Gamer Edward Kahler brings his talent to Argonne

by Marcella McCarthy, Medill Reports Chicago, Northwestern University

November 11, 2010 - Surrounded by wires and machines that emit a low buzzing sound, computer scientist Edward Kahler looks mesmerized as he stares at his laptop screen at the Electronic Visualization Lab at the University of Illinois at Chicago. His focus and soft demeanor are just a cover-up for his badass gaming skills and the weekend clubber in him.

Over the years, Kahler's interest in video games led him to major in computer science at UIC where he took a video game developing class. But he branched out of the usual tech classes and also took art history and a drawing class. "I really like creating things," he said. "Whenever I go to the beach, I tend to draw in the sand."

That interest in art and his tech skills have come to the attention of scientists at Argonne National Laboratory.

Read the complete article

See a YouTube video describing Cli-Mate, the application Kahler is developing for Argonne.