ImmersaDesk3™
May 1st, 1998 - July 1st, 1998
Categories: Devices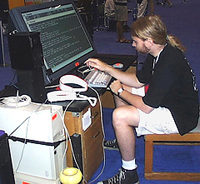 About
The ImmersaDesk3™ is an experiment in desktop VR using a flat panel display. Our goal was to make a prototype with tracking and stereo for SIGGRAPH 98, where the I-Desk3™ was the roving part of EVL's Guerilla VR installation.

Guerilla VR consisted of two ImmersaDesks™ showing seven art and educational VR pieces. Four applications were networked between the two IDesks; Dimension World, Interiors, The Round Earth Project and The Thing Growing. An IDesk2™ remained at the Digital Pavilions area in the Emerging Technologies section on the SIGGRAPH conference floor, while an IDesk3 roamed to different locations.

The IDesk3™ was built around a Fujitsu 42 inch diagonal plasma panel. Because of limitations in the plasma display we had to use a NTSC based signal at a resolution of 640 x 480 with a 60hz refresh rate. To run stereo on this display we had to develop an unconventional method since the plasma display emitted infra-red in the same spectrum usually used to trigger the active stereo glasses.

In order to solve this problem we developed a driver that would run the glasses via wire, and the sync acquisition was accomplished with a high speed photo-cell mounted directly onto the plasma display. However, at this time there are still stereo problems with the plasma panel that can only be resolved by the manufacturer.

Due to these hardware constraints, further research in the development of VR devices using flat panel technology as the display mechanism is currently postponed.