The Ganymede Accessbot: An Enabling Technology for Teleconferencing
May 1st, 1998 - May 15th, 2001
Categories: Devices, Networking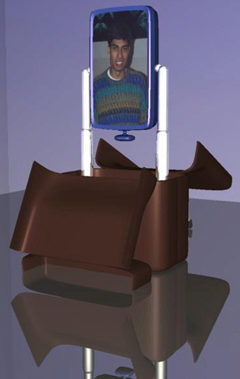 About
The problem of providing accessibility for the handicapped goes far beyond merely providing ramps and elevators in buildings, cars, airplanes, and buses. There are in fact people, such as those afflicted by Multiple Schlerosis, who simply do not have the strength or health to travel even when physical access is available. The Accessbot provides a new form of access by integrating teleconferencing with life-sized display screens, robotics and high speed networking, to create a virtual presence for the handicapped participant at meetings. The use of a life-sized display and high-fidelity video and audio conferencing rather than existing conference room meeting systems is to ensure that the handicapped participant commands an equal presence as the regular participants in the meeting.

At Supercomputing '98, a prototype of the Accessbot provided a virtual point of presence to allow participants in Chicago, Singapore and Australia to attend the conference and host presentations and discussions at the iGRID booth.

An Acccessbot is permanently deployed at the NCSA Access Center in Washington DC.